Gipper has released Workspace Settings! This article will walk through how to use this new page and help get your Workspace set up for success. Workspace Settings are only available to Workspace Admins on the account.
Table of Contents:
Accessing Workspace Settings:
To get to the Workspace Setting section of the platform, you will want to first click on "Your Workspace":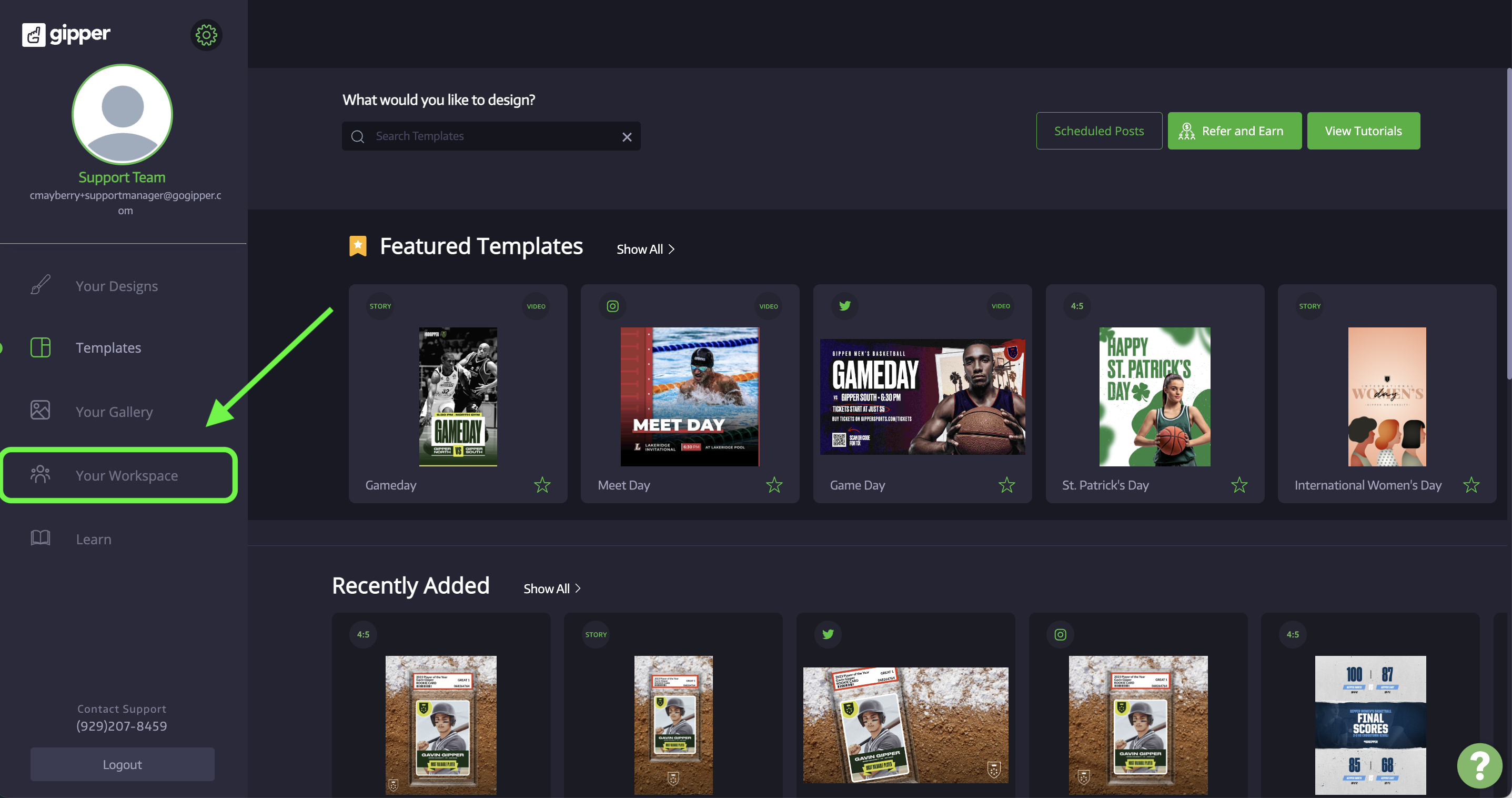 Now that you are on the Your Workspace page, you will want to click "Permissions" in the top right corner: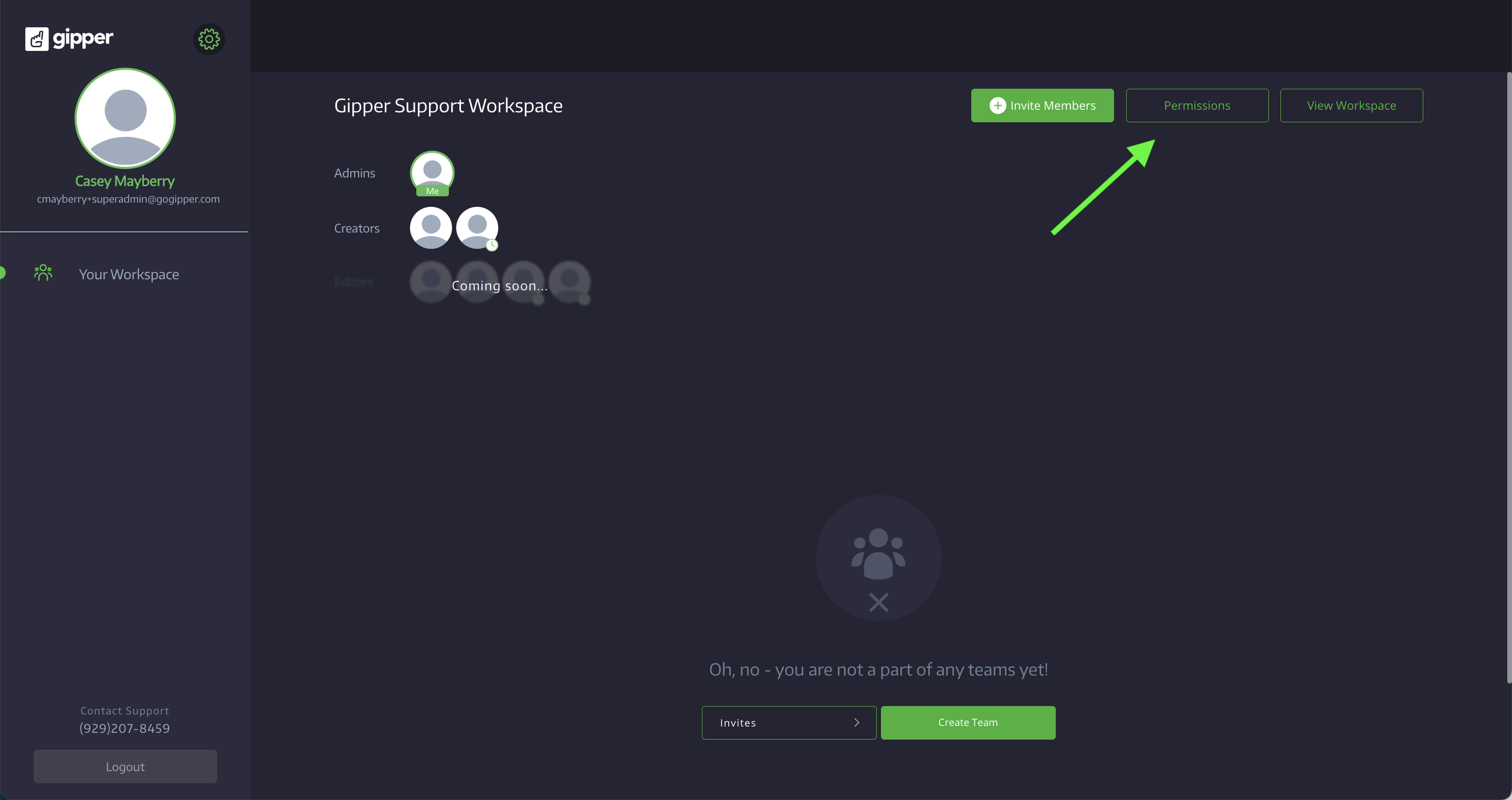 Now this will bring you to the Permissions page: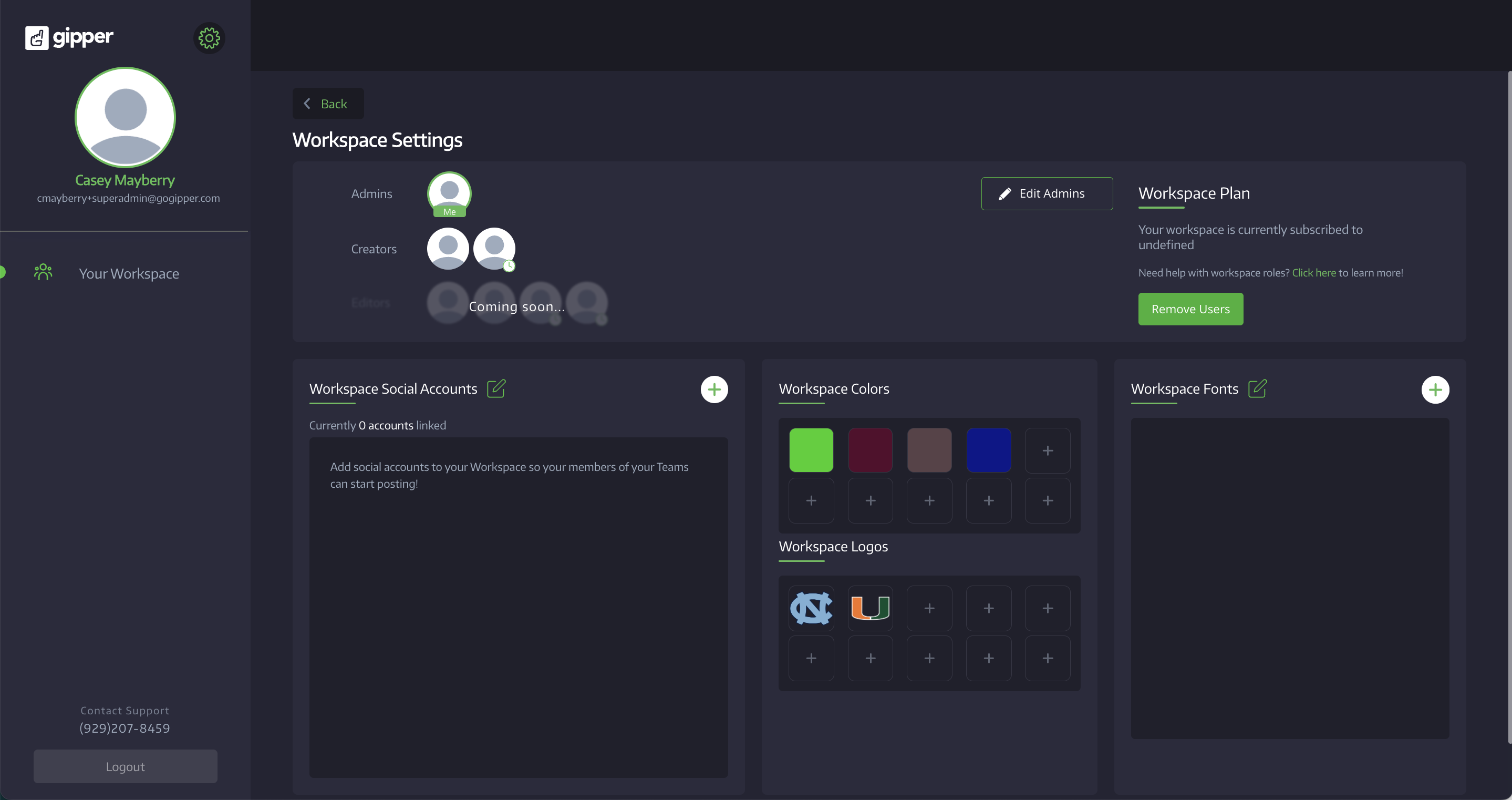 Now let's break down each section within the Workspace Settings page.
Admin Roles

You will now see you have the option to "Edit Admins". There are now two types of admins within your workspace.
Super Admins have the ability to:
Add/remove users
Assign/edit user roles
Edit billing and subscription information
Set Workspace Colors
Set Workspace Fonts
Set Workspace Logos
Set Workspace Social Accounts
Creative Admins have the same level of permission as Super Admins, however, they will not have any visibility into billing or subscription information. This means that Creative Admins will have the ability to access the Workspace Settings page and set custom values for the Workspace.
Clicking on "Edit Admins" will open a pop-up that will allow you to change the workspace Super Admin and also add/change the Creative Admin of the workspace: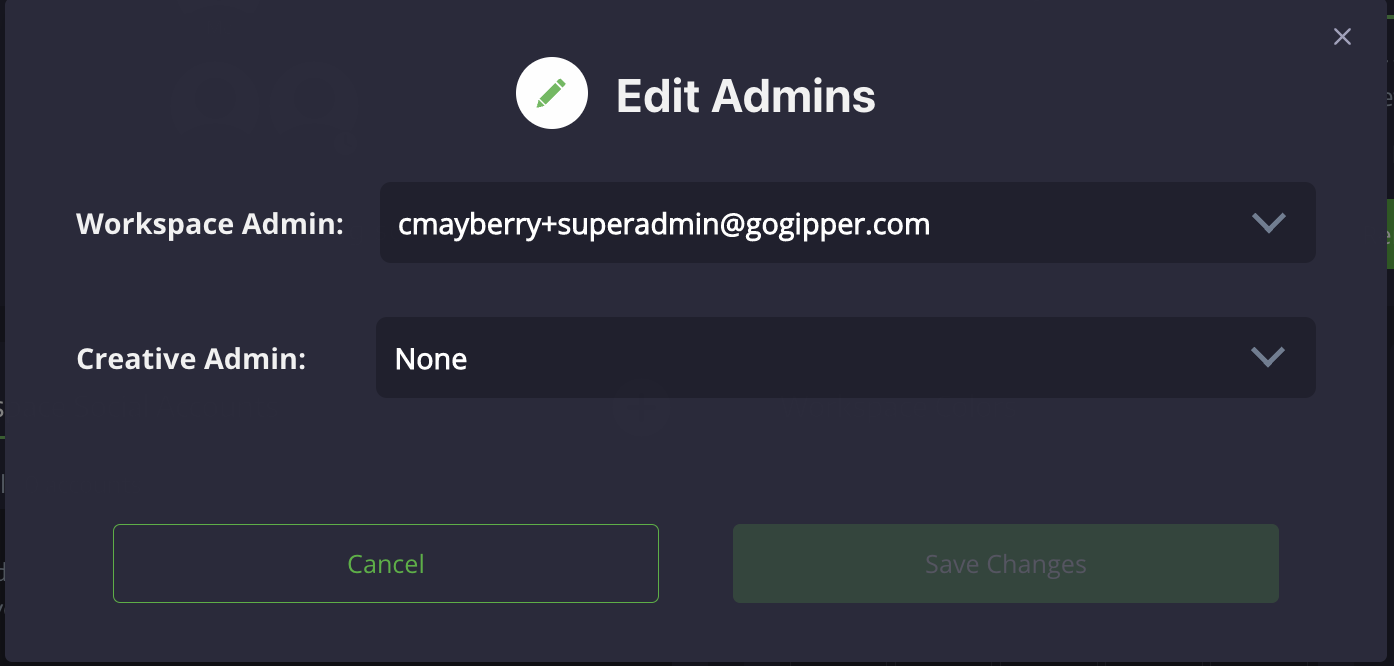 You can select the down arrow to see allow users who are current members of the workspace. From here you assign a user to the "Creative Admin" role or change the "Workspace Admin" role.
When changing the "Workspace Admin" you will receive a popup to confirm the changes that will go into effect: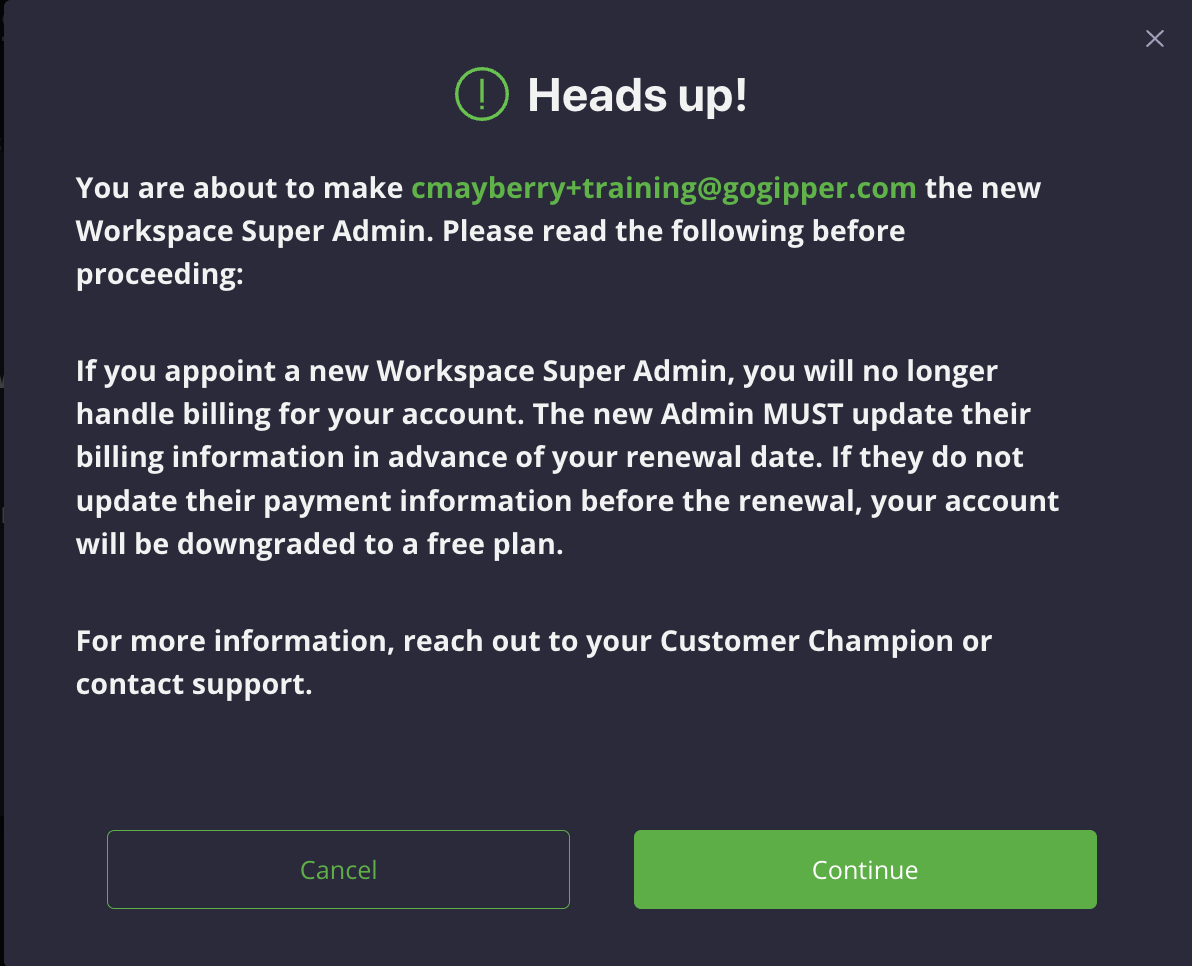 Once selected click "Save changes" and the adjustments will go into effect!
Please note: the main difference between "Creators" and Creative Admins is that the creative admin will have visibility to the workspace setting page!
Edit Creators
You will see an "Edit Creators" button appear ONLY when you have a Creative Admin assigned. This will be in the event that you want to remove the creative admin from that role and make them a standard creator.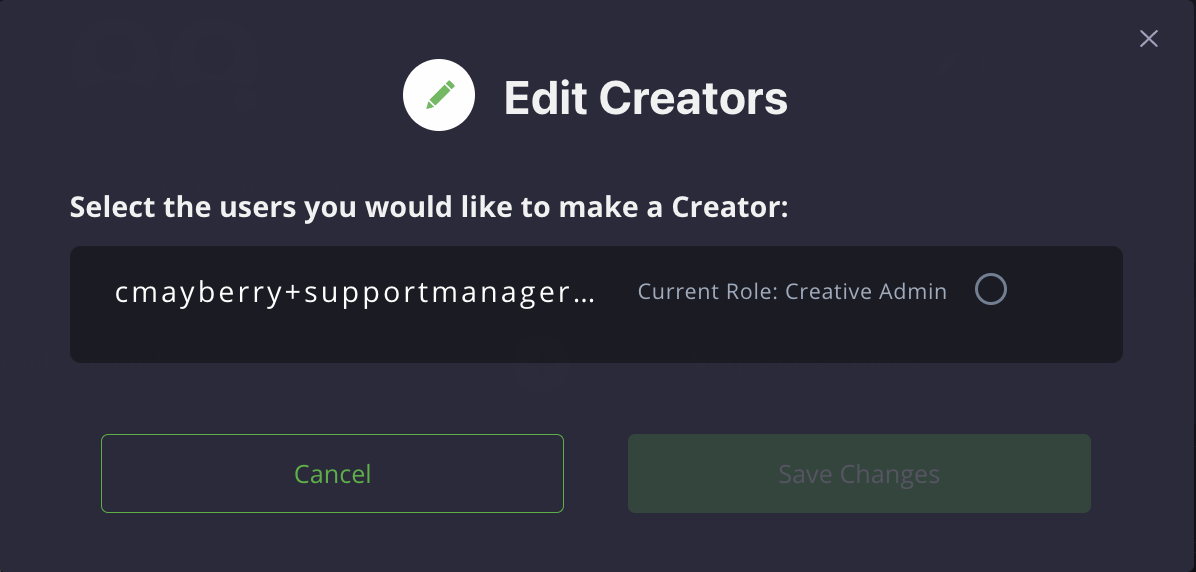 Remove Users
You also have the ability to bulk remove users from the Workspace Settings page.
You can click on the "Remove Users" button and a pop-up will appear.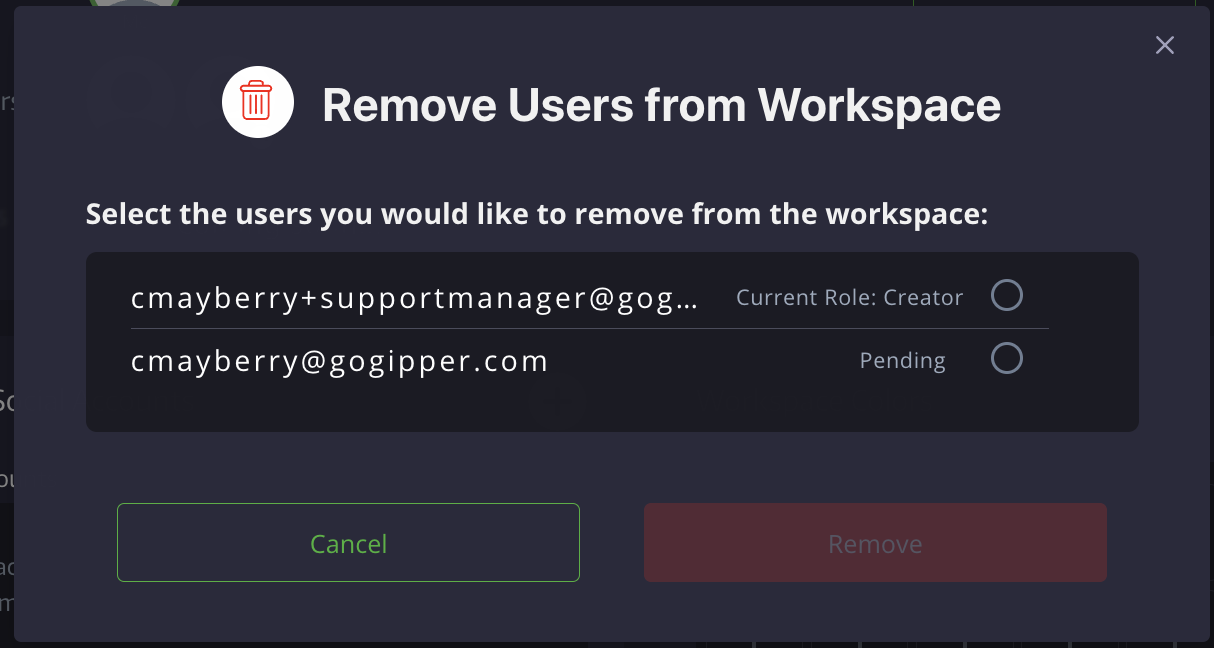 Here you will see all current and pending users. You can click the circle to the right of each user's email you wish to remove, then click the red "Remove" button.
A secondary popup will appear, asking you to confirm your selection(s). Please take notice that if a user is removed, their shared designs, media, etc will be removed from the account. This action can not be undone.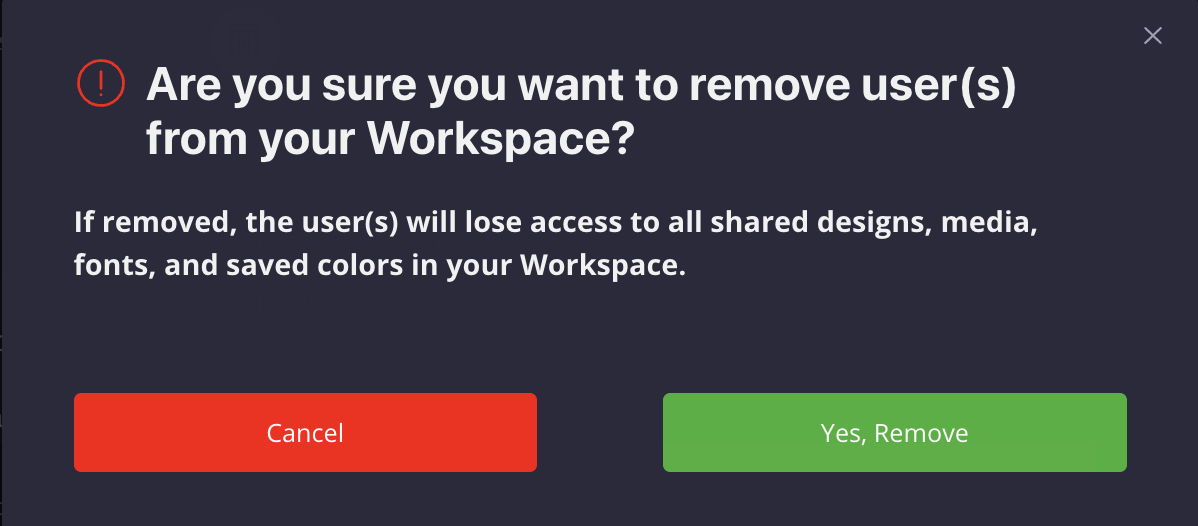 Workspace Social Accounts:
The next section is Workspace Social Accounts. This section allows workspace admins to connect shared social media accounts to the workspace, then give individual teams permission to publish directly to that account.
Individual users will still be able to add their own personal social media accounts within their accounts that are only visible to them. For information on how to do this, click here.
To add a workspace social account you will want to click the green plus sign: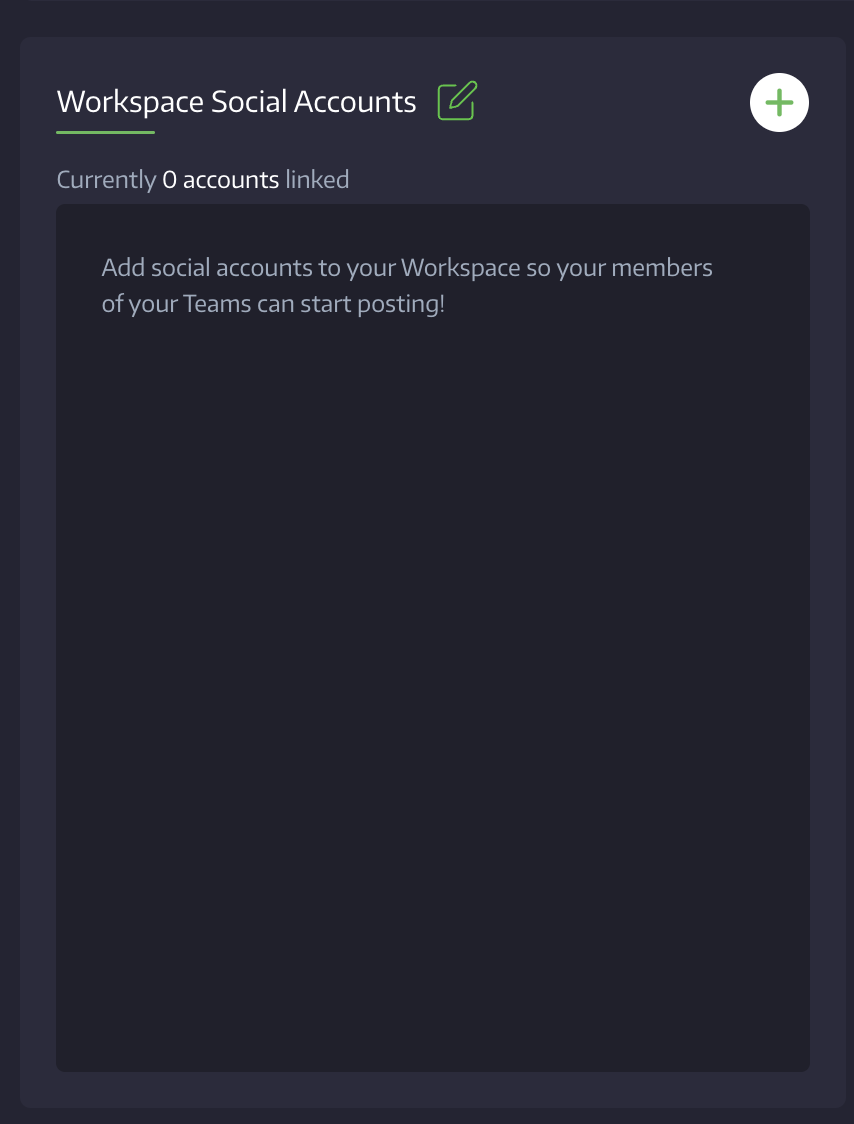 You will want to select what platform you will like to add: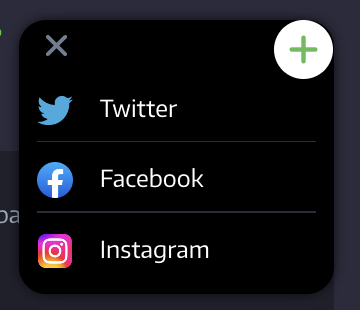 Once you have confirmed the login credentials, Gipper will ask you what teams you want to share the social media platform with. You can put an account nickname and share it with as many teams as you see fit: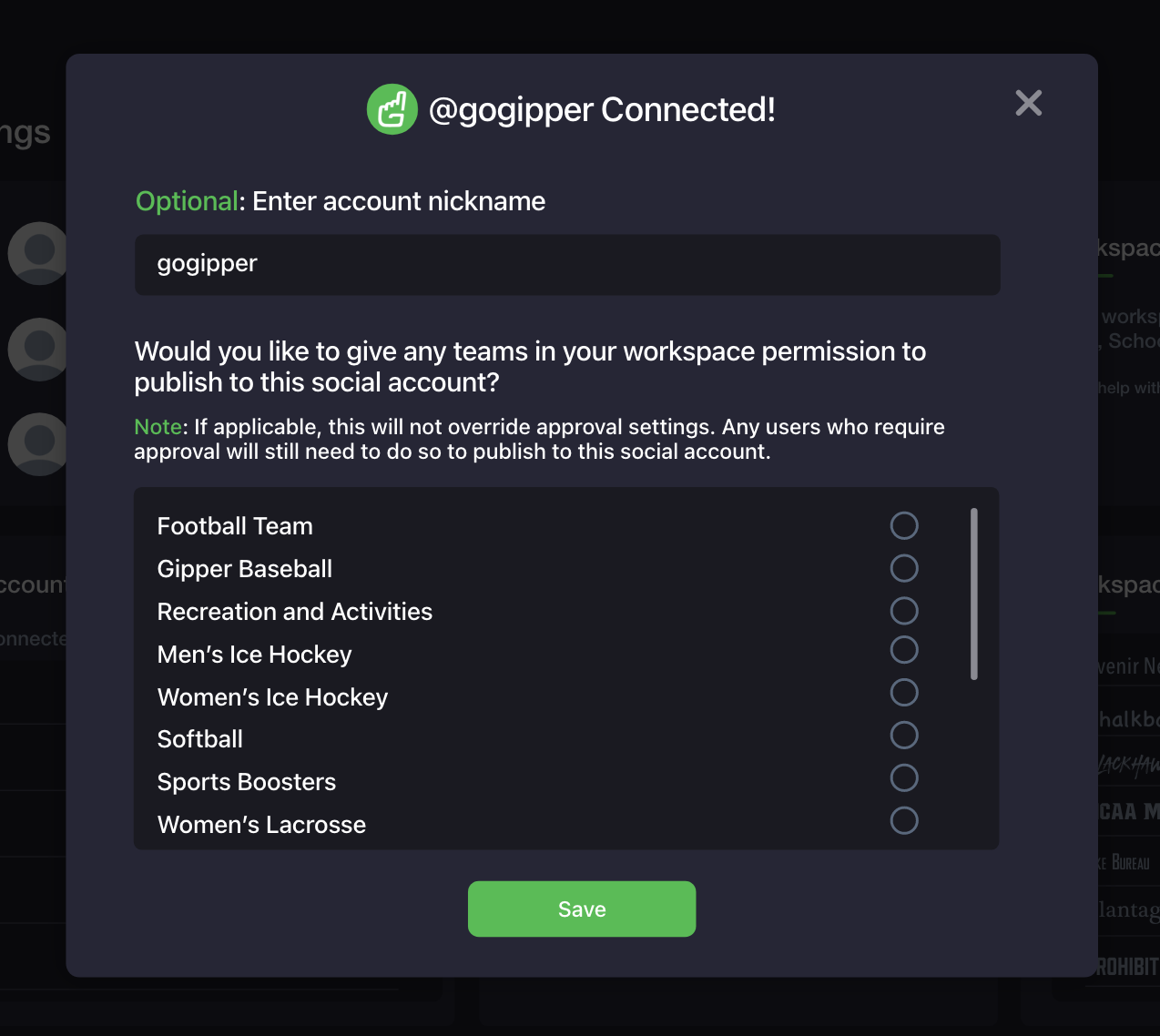 Once selected and saved, users on the teams you've chosen will be able to post to the social media account you have given permission.
Please note: users who have had a workspace social account shared with them can not log in, change settings or access your page. They can only post designs to these pages through Gipper!
Once added, you can click the Pencil next to Workspace Social Accounts to edit the nickname, see how many teams are connected to the social media account, and have the ability to remove the social media account completely.
Workspace Colors
The "Workspace Colors" section can accommodate up to 10 chosen colors - these can be your school's traditional colors or any colors that you prefer to share with all those in your workspace. These can be set by both the Super Admin and Creative admin. These colors will appear in all the creator accounts as Workspace colors. Creators can also still have 10 saved colors of their choice in addition to the workspace colors.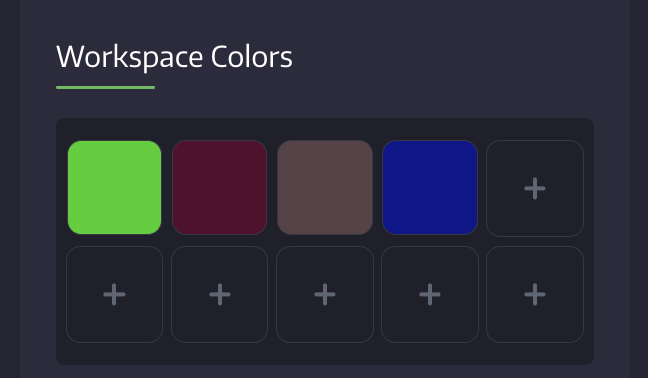 To add a color, you will just need to click the plus sign in a box that has not yet been assigned a color. A pop-up will appear where you can select a color from the palate or put in a hex code. Once you hit save, the color will be added under Workspace Colors: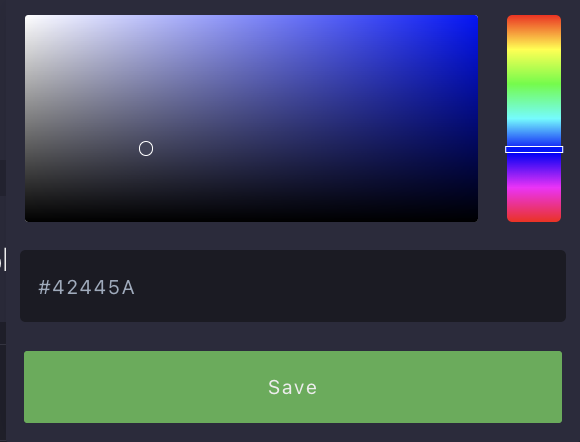 To change/delete an existing color, click on the color and you will a pop-up appear that will allow you to change the color or delete the color completely.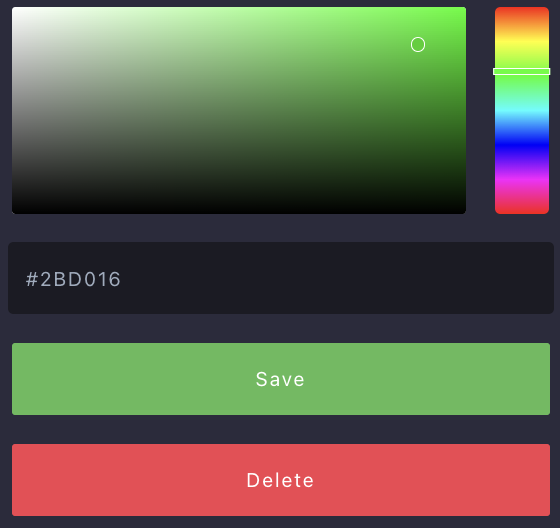 When in the editing section of a design, you will now see a Workspace Colors and Your Colors tab that will appear when changing colors.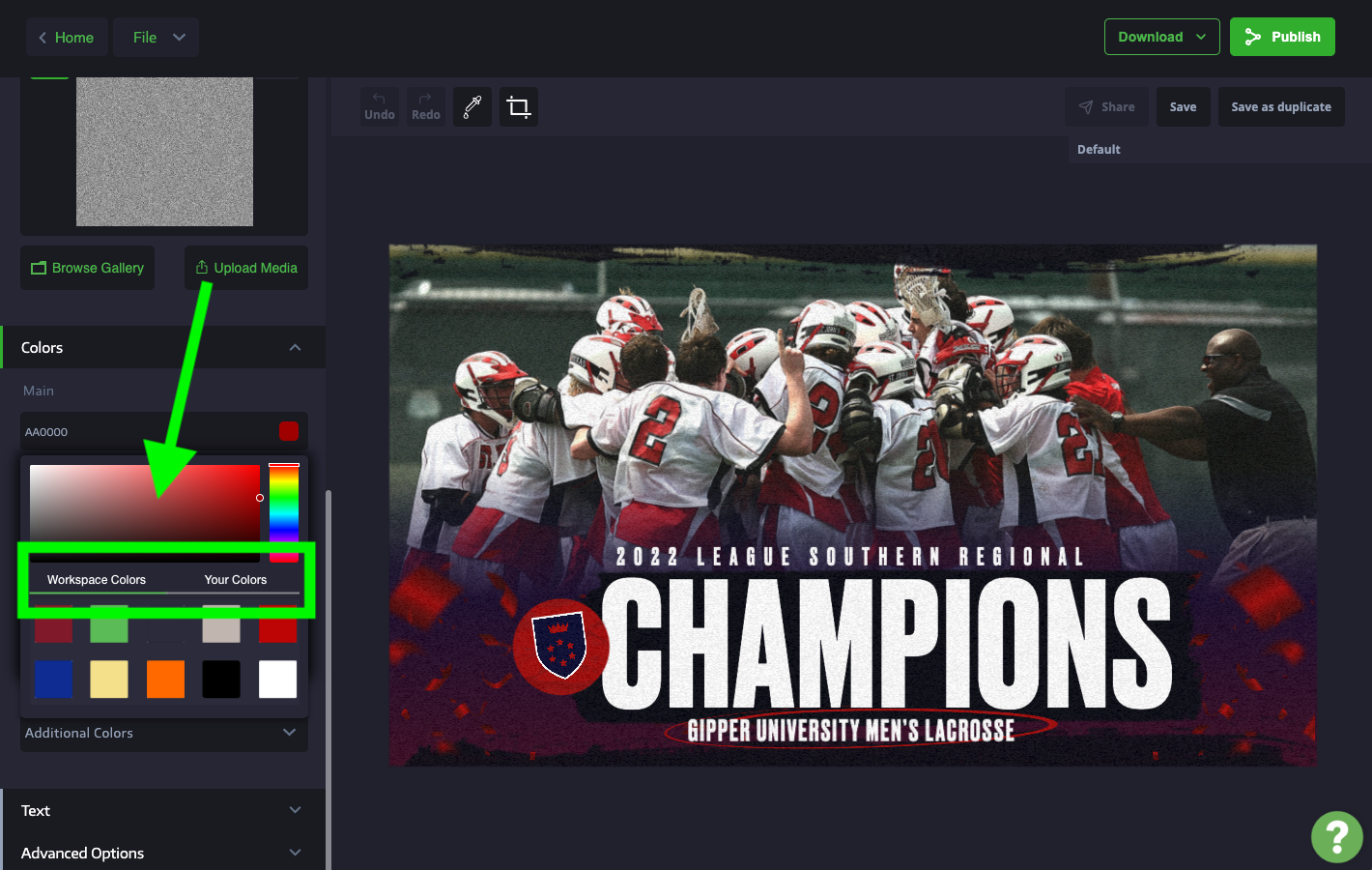 Workspace Logos
Similar to Workspace Colors, the "Workspace Logos" section can store up to 10 of your official organization's logos which will be shared with every user in the workspace. Users still have the ability to upload their own logos or use our logo database, but this tool will allow you to set your organization logos that are used frequently.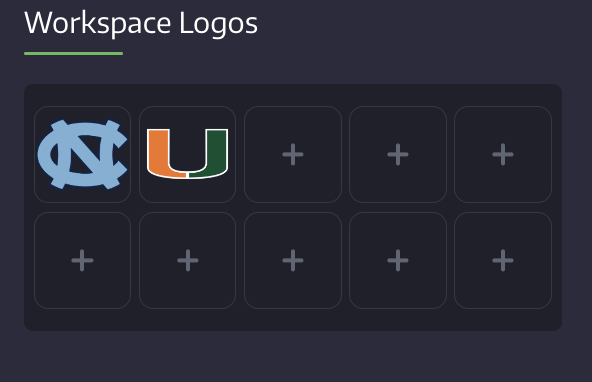 To add a logo click on the plus sign and it will open a pop-up that will show all photos on your computer (via desktop, folders, etc). It will look very similar to this: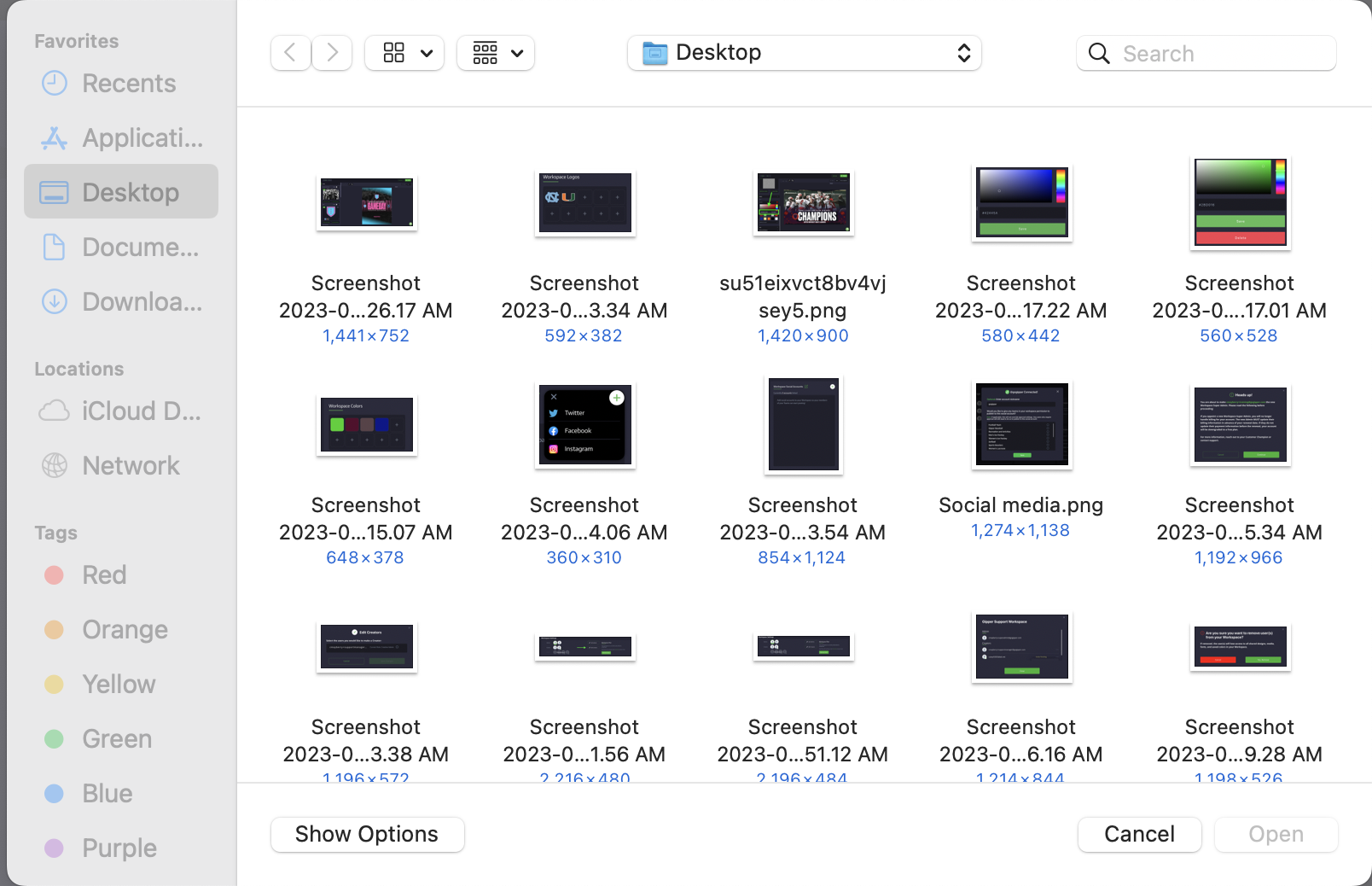 You will click the file (logo) you want to upload and hit the open button, this will add the logo to your Workspace logos.
To remove a logo click the logo itself, and a popup will appear confirming you want to delete the logo:

All Workspace logos will appear in the logo controller when editing templates. Users will have the option to select one of the workspace logos for easy access. Please see the screenshots below: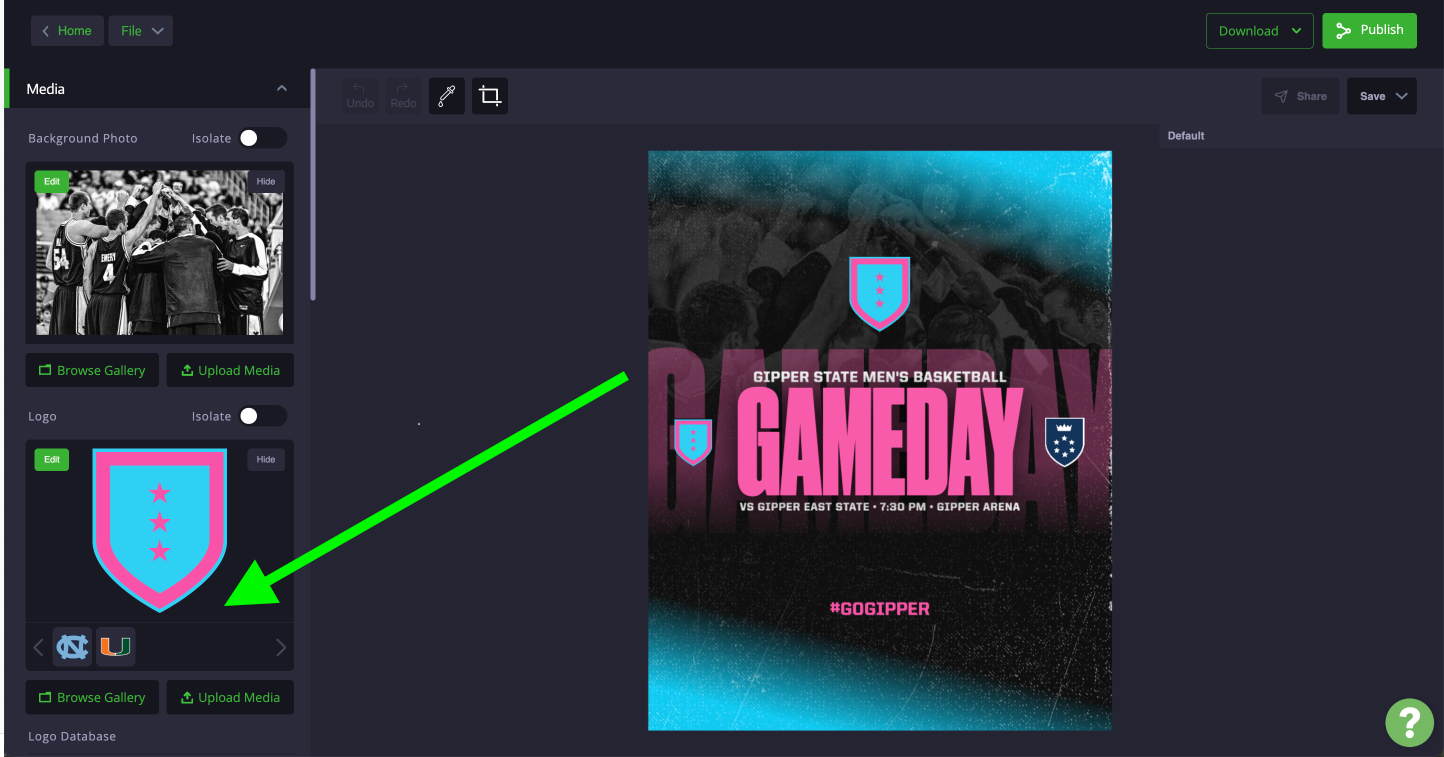 A closer look: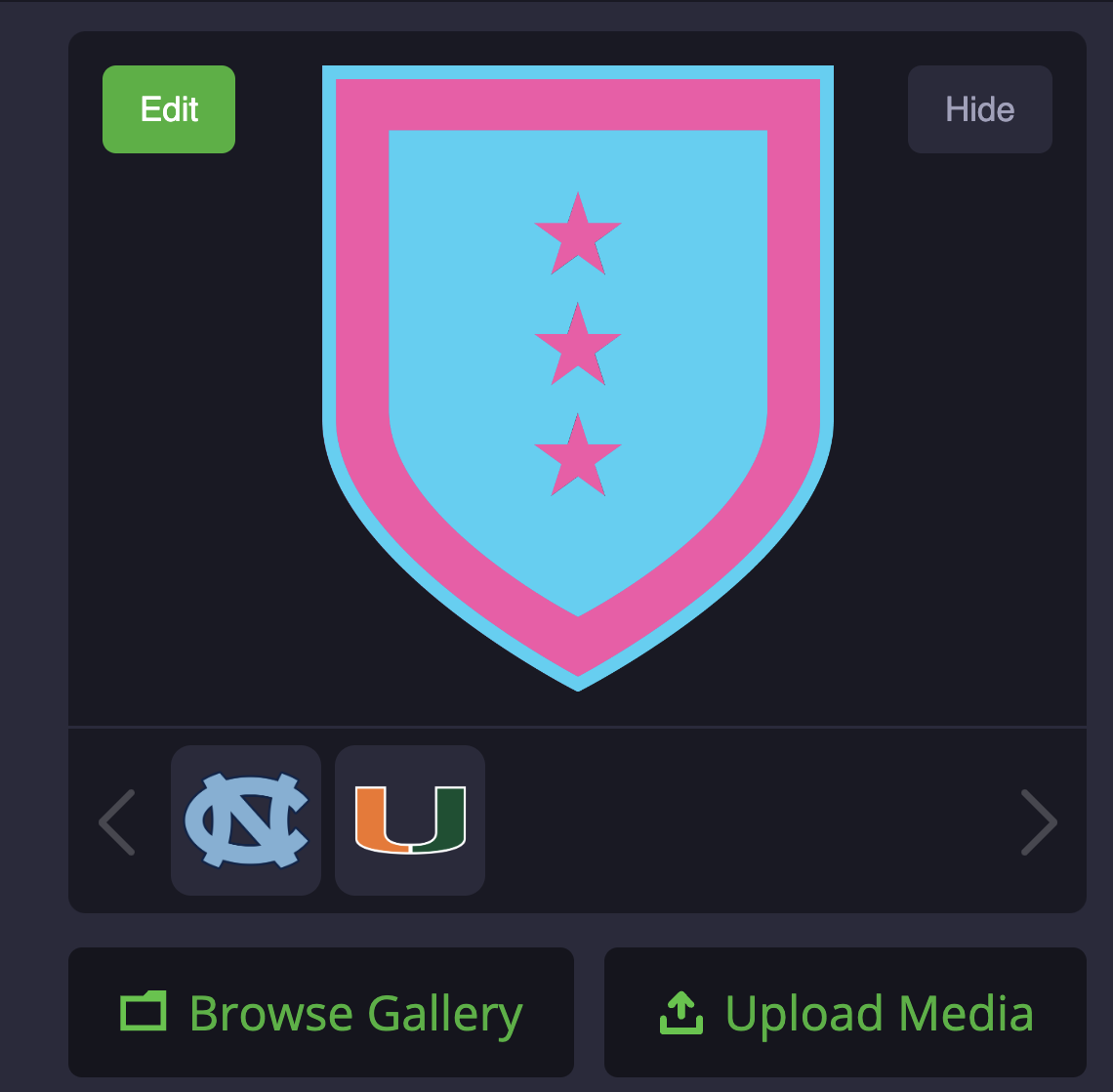 Workspace Fonts
The Workspace Fonts section allows you to upload custom fonts to your workspace, making them available to all invited users. There is no limit to the number of fonts you can upload. These fonts will populate the font list with all other font options.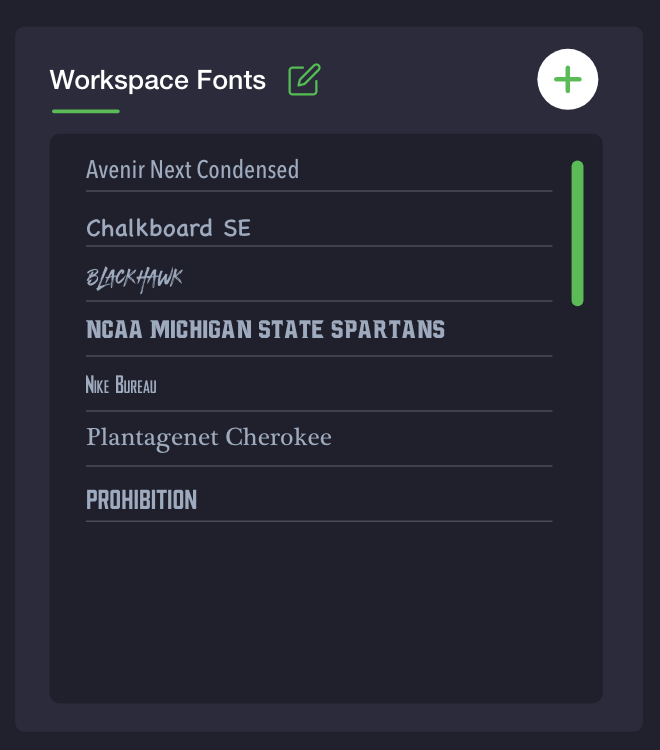 To add a font, click the green plus sign and select Upload. Please note, the file can be
either a .ttf or .otf font file.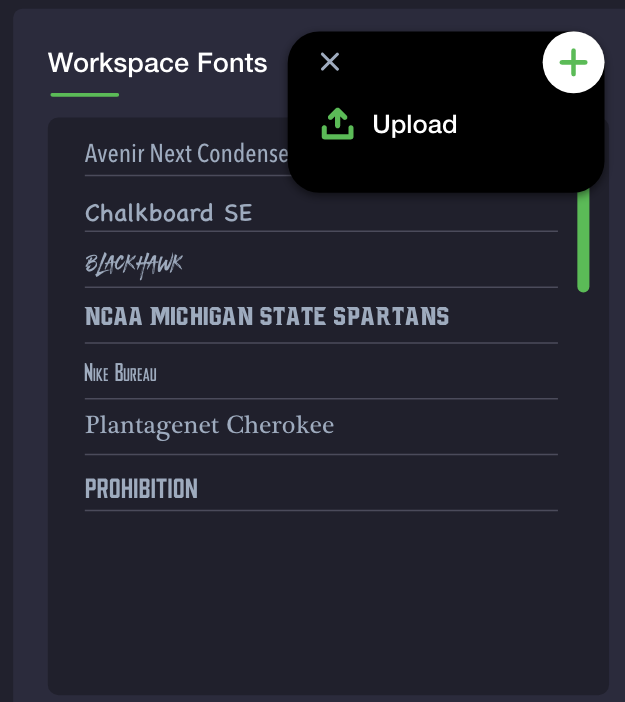 After selecting a font from your computer, you will get a pop-up to confirm the file and complete the upload.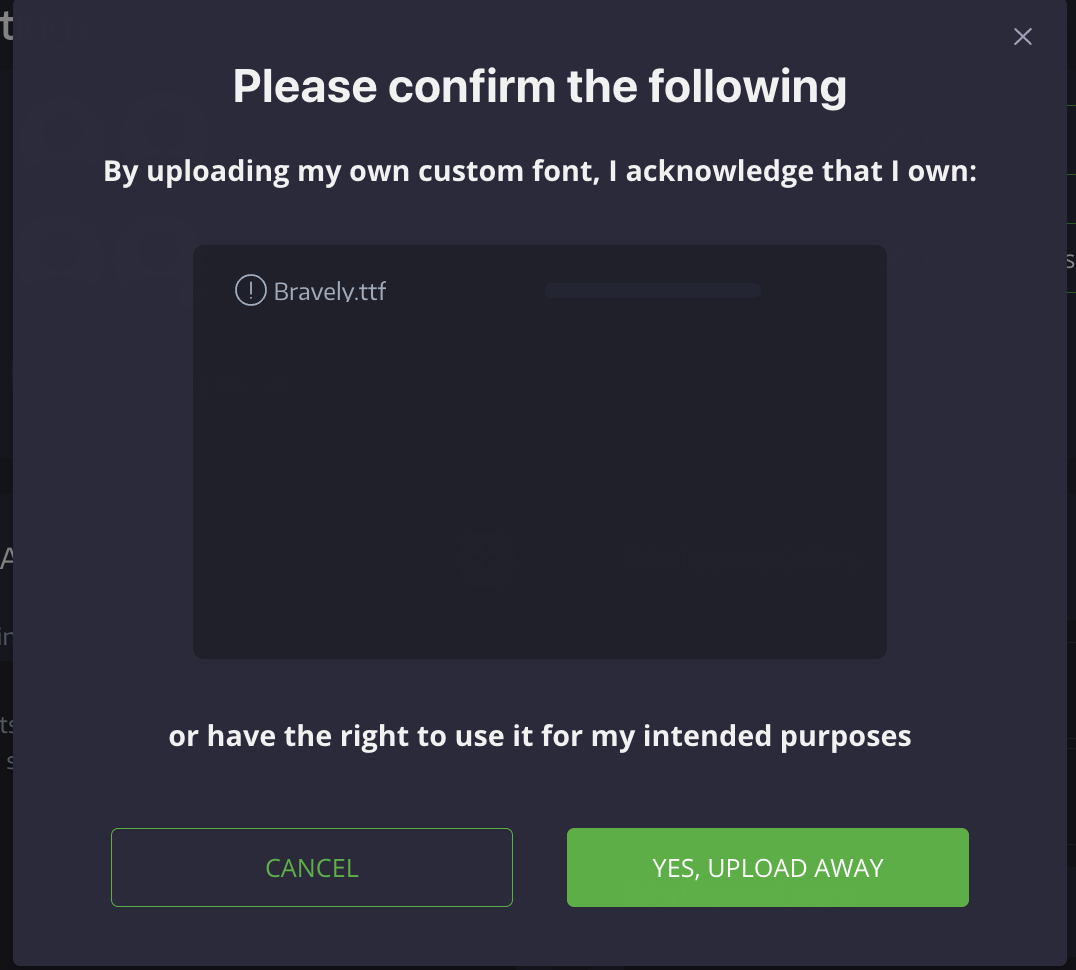 Once uploaded successfully, you will a green bar appear at top of the screen confirming the font has been uploaded.

You also rename and delete fonts in the workspace by clicking the pencil next to Workspace Fonts.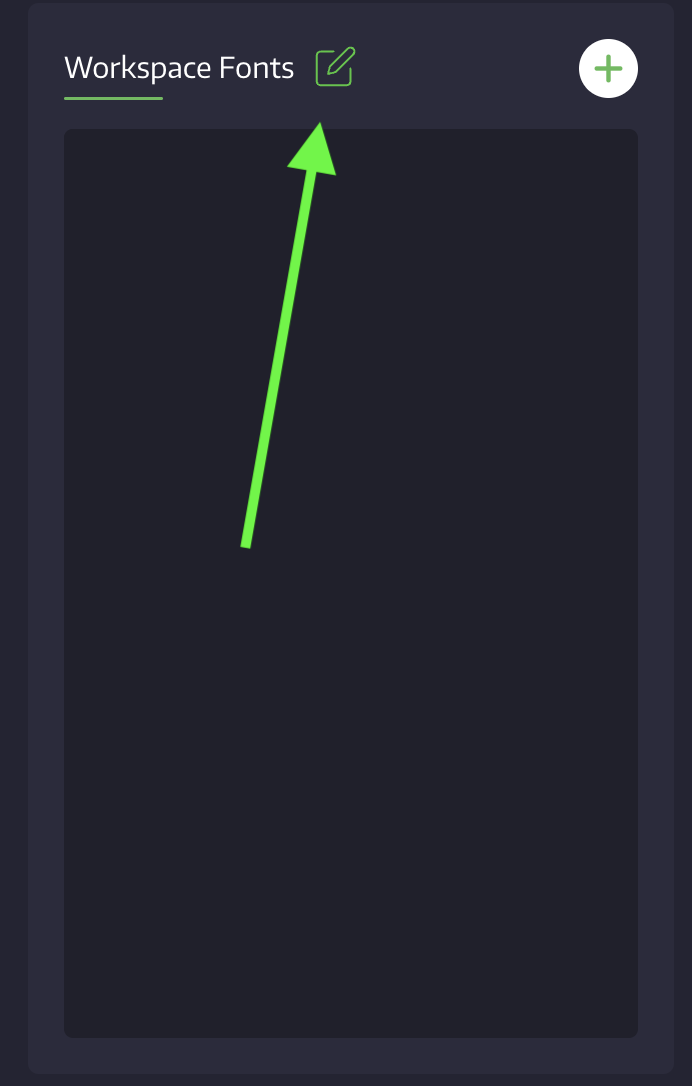 It will open a page showing the fonts that have been uploaded, a preview of the font, and the ability to edit the font name. To rename, click the pencil icon and it will allow you to type in a new font name (IE Football team font). Click out of the box to save!
You can also remove a font from the workspace by clicking the red trash can.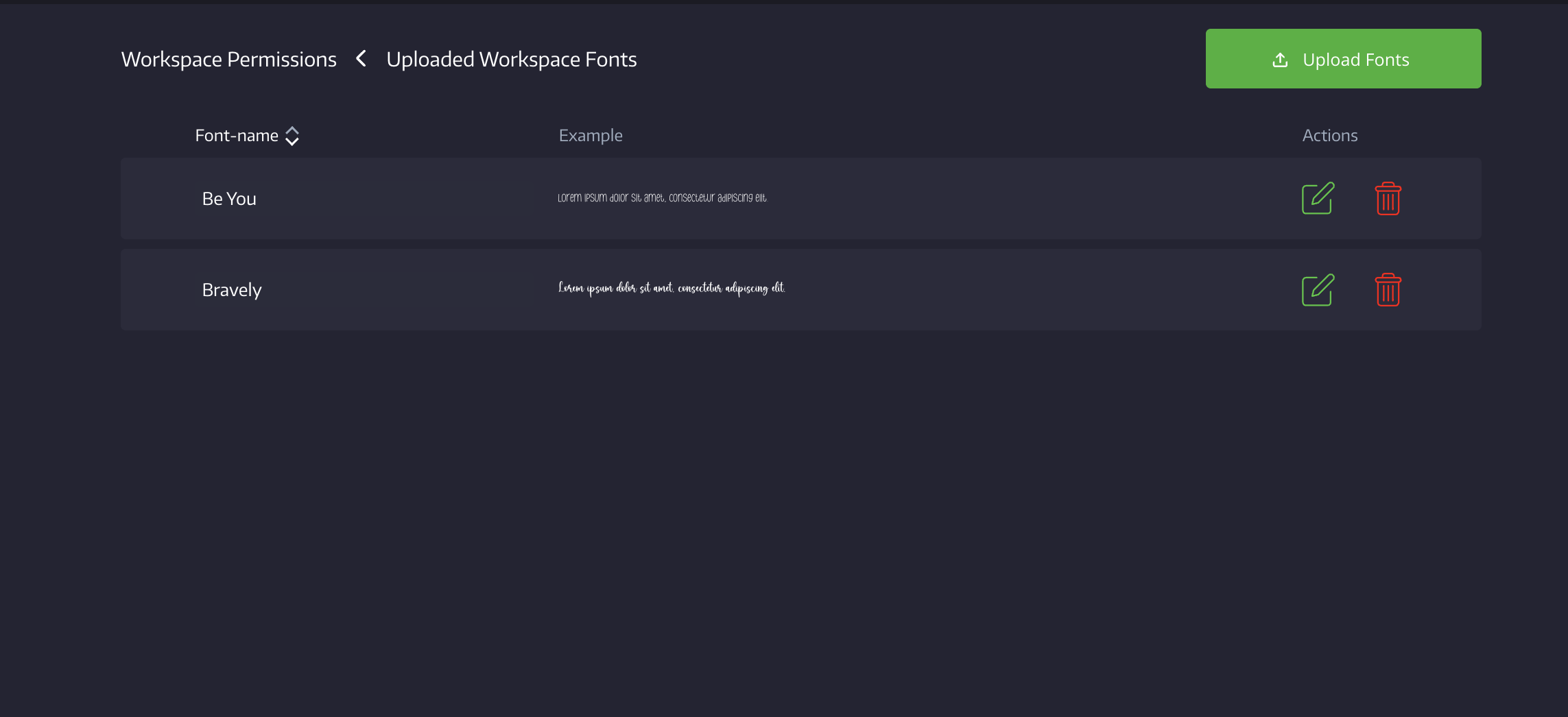 Thanks for reading and we hope this was helpful! If you have any questions, please contact our Support Team via email at: support@gogipper.com, use the green Help button in the Gipper Platform, or call our support phone line at (929) 207-8459!